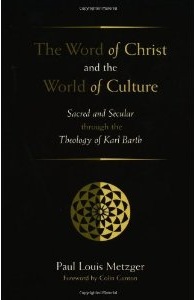 The theological revolution that Karl Barth inspired was by no means a dismissive reaction to modern culture but, rather, was a dynamic and carefully nuanced encounter with the concerns of his day. This excellent new work by Paul Louis Metzger provides an exposition and extension of Barth's engagement of culture in view of his doctrine of the Word.
Metzger demonstrates that Barth endeavored to relate Christ to culture in inseparable terms while maintaining a distinction between them. Working from an intimate knowledge of all of Barth's writings, Metzger shows how Barth's doctrine of the Word provides a sound basis on which to build a theological model of culture that guards against the two extremes of either the divinization or the secularization of culture, while at the same time nurturing a healthy appreciation for the secular domain.
The first part of the book analyzes Barth's formative theological period, which is characterized by his engagement with culture and what is termed "Culture Protestantism." The second part of the book focuses on how Barth's answer—a dialectical model of the Word—enabled him to offer a constructive synthesis of Christ and culture. The final section of the book traces the way Barth was able to frame culture within his theological model and yet continue to champion the secular domain.
Praise for The Word of Christ and the World of Culture
"Metzger's study of Karl Barth's theology of culture takes its rightful place at the forefront of a growing body of literature that challenges and overturns common North American prejudices about the theology of Karl Barth. In the light of Paul Louis Metzger's study, North American theologians may come retrospectively to regard Karl Barth—and not Paul Tillich—as the preeminent theologian of culture in the twentieth century." —Clifford Blake Anderson, Center for Barth Studies, Princeton Theological Seminary (read the full review at the Center for Barth Studies)
"Amazing! This book shows how Orthodox Christology can provide a framework for engagement of the sacred and secular spheres which is both constructive and critical… Metzger shows how Barth's paradigm establishes the framework for a theology of culture crucially relevant to our modern day, in which Christology calls culture to truly be itself. I highly recommend this book to anyone wishing to see Christology taken 'off the shelf' and into the world-at-large." —Josh B. (read the full review at Amazon)
"The World Of Christ And the World Of Culture: Sacred And Secular Through The Theology Of Karl Barth by Paul Louis Metzger is a close and illuminating study of Karl Barth's revolutionary theological ideals. From exploring the sacred in the creative word to "theological politics" to the demise of corpus christianum, The World of Christ and the World of Culture balances centuries of tradition and faith with modern changes in human way of life looking for a road that unifies faith in God with adaptations to the onward march of Time. The World Of Christ And The World Of Culture is a most welcome addition to Christian Theological Studies reading lists and library collections." —Midwest Book Review (reviewed at Amazon)
"Metzger writes for the academy in this study of Karl Barth's thought on the relation of the sacred and the secular. But an unintended audience for his work are those outside academia who seek to enter the most current theological conversation regarding culture. A must for pastors and teachers who want to prepare with 'one finger in the Bible and the other in the newspaper.'" —S. Mitchell (reviewed at Amazon)
"Metzger's exposition of the implicit theological foundation of Barth's approach to culture is well-informed by the recent studies of Barth, especially his methodological christological concentration." —Pan-chiu Lai (read the full review at Ars Disputandi)
Reviewed by Halden Doerge in the International Journal of Systematic Theology, Volume 6 (2004), pages 450 – 455
Reviewed by Peter Forster in The Gospel and Our Culture Newsletter 39